Have you ever thought to yourself,
"I want to start my own business but I'd feel better if I had a real-life example of what someone else did to be successful!"
or,
"It would be SO COOL to see what *really* goes into creating a brand-new business from the ground up!"
or,
"Where do I even BEGIN with building my business?"
We totally get that.
In this Small Business Case Study, we're being super transparent and sharing all the behind-the-scenes nitty-gritty details of what it's like to start a brand-new business from scratch.
We came up with the idea for our business in March 2017… and we're documenting every single step along the way to see what works and what doesn't.
Even better? We're sharing all that information with YOU, to make your life that much easier as you get started with your own business!
How this case study works…
From June — November 2017, you'll receive a report detailing exactly what we spent our time and energy on during the previous month to work on our business.
We'll share with you our struggles and our wins, how we're navigating being business partners, what's worked (and what hasn't) for finding clients, our process of managing the daily tasks of our business, how we deal with overwhelm in the middle of crucial life events like buying a house and getting married, and more.
Plus, you'll get detailed examples of what our business plan looks like so that you can emulate parts of it for your own business!
You'll even get the chance to ask us specific questions each month so that we focus more on the topics you're MOST interested in.
This is brilliant! Thanks so much for sharing these insights — you are always so generous with your time and resources.

I'm in the process of re-doing my website. In fact, I've been re-thinking my entire approach for my business. I've just not felt all that comfortable since launching last year – eek! But having worked through a lot of stuff lately, I'm feeling more confident about where I want to take my business. I just need to get on and get my site refreshed and get out there promoting it!

This case study is going to help enormously with that process 🙂

– Robyn, writer + editor at Red Robyn Communications
Who we are…
Hi! We're Sagan and Dan.
We've been in-real-life friends and business buddies for years. Sagan is a copywriter (as well as a small business strategist and blogger) with a background as a freelance writer, editor, and social media manager. Dan is a digital marketer with experience in agency life. Combined, we bring nearly 20 years of work experience to the table.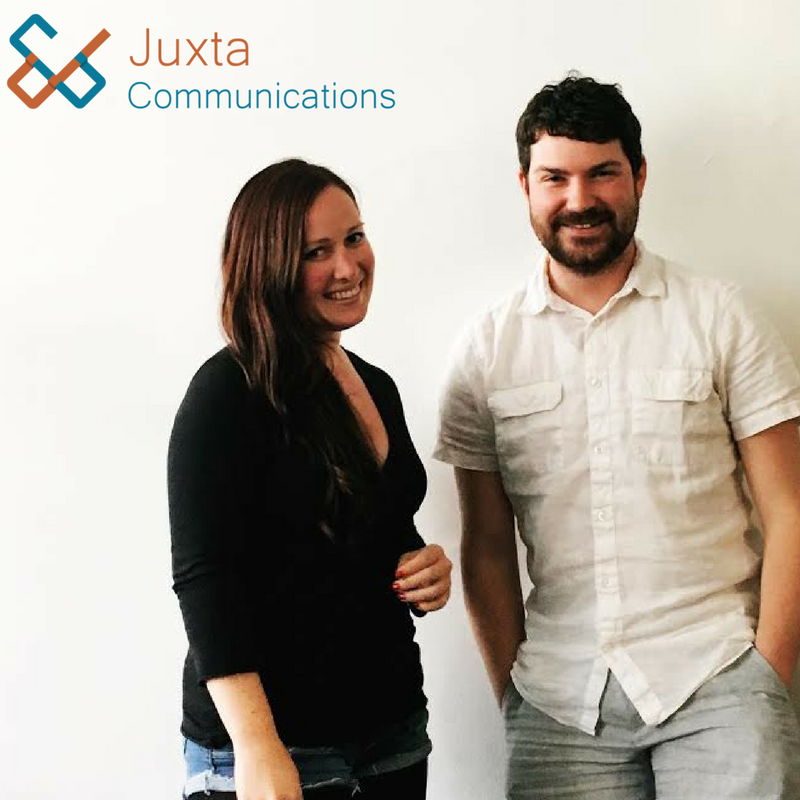 We came up with the idea to co-host a podcast about small business in March 2017, and in our very first episode, our guest was talking about how great it was to have a business partnership with her brother. This sparked conversation about doing our own business partnership and before long, we were up and running!
Our business is called Juxta Communications: we're an inclusive, feminist communications agency based in Winnipeg, Canada, working with businesses and nonprofits who do awesome work in the community. We provide digital marketing and copywriting services to save our clients time and energy, and we are also looking forward to adding educational products (such as e-courses on how to create your own podcast, how to do media planning, how to handle Google Analytics, and more) in the future to make our clients' lives even easier. Our podcast, Candid Conversations, fits under the umbrella of the Juxta Communications business.
The case study presented here is a documentation of our experience going into business as partners and starting a business from scratch.
This case study is designed to show you the true transparent background of what we're going through as we begin putting together Juxta Communications from the ground up. We hope that it will help you to understand what goes into creating a business, inspire you on your own entrepreneurial journey, and provide you with tips and ideas for how you can build a strong foundation for your business.
What to expect with this case study
Disclaimer
Case study backstory (who we are + what this case study is all about)
Monthly overview
Social media marketing efforts + results
Communications with clients + prospects
Internal communications + mental state
Business management + admin
Tools + resources we used this month
How to take what we did this month + apply it to your own business
Questions + comments
Monthly overview
Social media marketing efforts + results
Communications with clients + prospects (connecting with ideal client)
Business management meetings (meeting with our accountant)
Branding our business (logo + business cards)
How to take what we did this month + apply it to your own business
Questions + comments
Monthly overview
Business management + navigating growing pains
Ongoing task management
Solopreneurship to business partnership (blog + newsletter planning)
Communications with clients + prospects
Setting rates for services
How to take what we did this month + apply it to your own business
Questions + comments
Monthly overview
Starting to incorporate
Changing our Instagram aesthetic
Business management + updating the business plan
Handling client communications + conflicts
Navigating internal business communications
How to take what we did this month + apply it to your own business
Questions + comments
Coming soon!
Coming soon!
Coming soon!
"This case study is pure GOLD for new business owners!"
– Dan Nicholson, one-half of the Juxta Communications team (about whom this case study follows)
Frequently Asked Questions…
1) When does the case study start and finish? 
The case study began in June 2017 and ends November 2017. You'll receive updates on the case study every single month!
The first four months (June, July, August, and September) of the case study are already available for you as soon as you sign up.
2) How long do I have access to the case study?
You will get lifetime access to this case study, so it's okay if you can't go through it all right away!
3) What if I don't like the case study?
Aw, we're sorry to hear that. If you purchase this case study and decide within the first 7 days that it's not what you hoped it would be, we'll give you a full refund.
However, please note that we are happy to answer any and all questions you have in the coming months! So if there's something missing from a particular month of the case study that you wish we would have included, we encourage you to send us an email (sagan@juxtacommunications.ca) with your request, rather than asking for a refund.
Basically, that means you'll get what you want & need inside this case study!
4) What format is this case study in?
Currently, all lessons are text-based. Depending on what YOU want, we might also add video in the future — all you have to do is ask.
5) How much time will it take me to go through the material?
Although we've included plenty of details inside this case study, we also don't believe in being unnecessarily wordy! We get straight to the point and divide the lessons up in a logical fashion so they're easy for you to chew on 🙂 It won't take you long at all to go through the modules.
6) Can I create my own business based on this case study?
Please note that we do not have legal or accounting backgrounds, etc. This case study shares what works for our particular situation and provides examples that you can emulate if you wish. Every business is different, so what works in one situation may not work in another! However, you can absolutely take these ideas and make them your own.
7) How do I know if this case study will be useful for me?
Although this case study documents our journey in a joint business partnership starting a corporation, we've also had solopreneurs tell us that they found the information in this case study valuable for their own businesses!
You don't have to be a brand-new business owner to enjoy and benefit from the case study, either: if you are simply curious about what we're doing in our business, then you'll get some great insights, even if you've had your business for a while.
8) How much does the Small Business Case Study cost?
Because we're still in the middle of the case study, we're offering it at a super affordable rate of only $67!
Please note that the price will increase as we add more to the case study, so NOW is a smart time to purchase.
9) What if I have additional questions that aren't addressed in the case study?
No problem! There are opportunities in every module to submit your questions and feedback, and you can always email us at sagan@juxtacommunications.ca. We're committed to transparency in our business, so we're happy to answer your questions and include more information in the case study as you want/need it.